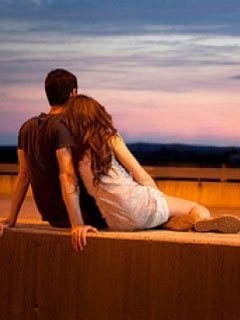 You have given me a treasure
that's worth more than you could buy.
The love I've always dreamed of,
fell out of the sky.
I'm convinced you were sent
to prove that love is real
An angel sent to show me
how being loved should feel.
When I look into those eyes of yours,
I see deep inside of you.
What I found is something
that I'd only heard was true.
An angel in the flesh, you stand in front of me
offering the love that
I've been searching for so desperately.
I have prayed that you would come.
I've been counting down the days.
You have saved me, my love,
in so many different ways.
No matter what the future
has in store for you and I,
I'll cherish every second that passes us by.
You have filled the empty place
that's kept me from feeling whole.
You have touched me and begun to heal me deep inside my soul.
I never want to leave you wondering
if my heart belongs to you.
That should never be a question.
No matter what we go through.
Just watch, my love, and you will see
that I belong to you alone.
Love isn't just what's said out loud,
it's also what is shown.
You are proof that God hears me
when I pray to him at night.
He sent to me an angel that
knows how to treat me right.
Sometimes it's written in the stars. Some things are just meant to be.
I believe that love always finds a way.
Just the way it brought you to me.